About Us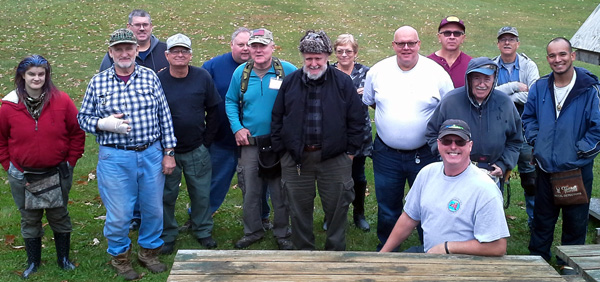 Our club got started in March of 1981, when a group of treasure hunters were having a drink in a local Kingston establishment, discussing the hobby. The group decided it was time to start an official club. The club became known as "The Black Diamond Treasure Hunters Club"
Today the club boasts a membership of over 50 members, from 3 different states.
The one thing we all have in common is the thrill and adventure of finding something that has been lost and forgotten. Our equipment can sense metal objects, thus enabling us to recover them and wonder...... "How did that get here?"
MEETINGS:
Our monthly meetings include coffee and donuts while business is being discussed.
Meetings include:
A Silver Half Dollar raffle each month.
A random prize to a member present at the meeting.
A "Show & Tell Contest" in which members submit their find of the month, and other members' vote on their favorite - Coins, Jewelry, and Misc., for a prize.
Two meeting a year (March - the clubs' anniversary & December - the holidays) are held at a restaurant or our regular meeting hall at Forty Fort where we celebrate and eat free pizza, wings, and soda. At the December meeting we also have a fun gift exchange for all to enjoy for the holidays. Some meeting dates may vary depending on Hunt dates. We may just have the meeting at a club hunt.
RESOURCES:
The club also maintains a comprehensive library of books, price guides, maps, and videos for member to use.
HUNTS:
In August we hold a member sponsored "Treasure Hunt". This event is highly regarded and held at Lazy Brook Park, Tunkhannock, Pa. This hunt is attended by veteran treasure hunters from all the Mid-Atlantic states and beyond. Many of the participants have not missed this event in over 20 years! It is especially know for it's great "KIDS Hunt". (See Events)
BDTHC also sponsors a few club hunts, just for members. We hold a Spring, and Fall Hunt. These hunts are usually located at one of our members' homes, members bring a covered dish, everyone receives a prize or finds coins, and fun is had by all. (See Events)
FIELD TRIPS:
All members are encouraged to secure permission for a small group of dedicated hunters to investigate some park or field on a weekend.
PUBLIC RELATIONS:
The BDTHC has a long history of helping law enforcement agencies with evidence recovery and working with the general public to improve the image of treasure hunters.
CLASS RING RETURN PROGRAM:
Our club does an exceptional job of reuniting owners with their long lost class rings. If you know of anyone who has ever found a class ring and was unable to locate the owner, please contact any BDTHC member. We have returned many class rings.